To start a family entertainment center or family fun center, you should have a clear idea of the kind of business you want to have. Arriving at this decision means that you have already taken into consideration the market population, competition, real estate, drive times, demographics, and other factors at the location you are eyeing. You can check these in detail in our complete guide.
Depending on what you have gathered in your initial analyses of the factors surrounding your business venture, you now probably have an idea if you are leaning towards an indoor family entertainment center, outdoor, or a mix of both. The question now is what kind of entertainment space is appropriate and feasible for you?
Get inspiration from these top family entertainment center facilities: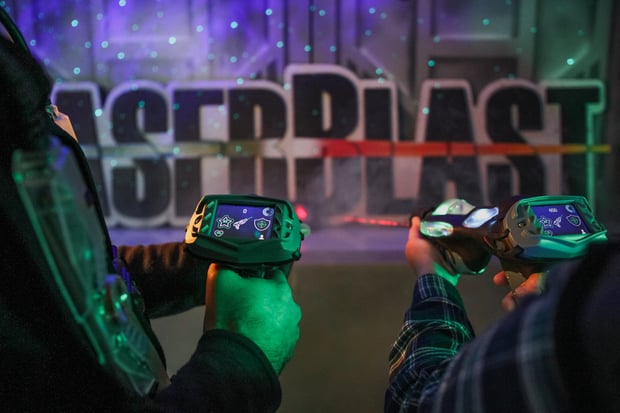 1. Arcade and video games
According to IAAPA's 2020 Benchmark Series Survey on family entertainment centers, arcades and video games are the most common attractions for FECs. In the same study, it is also found that arcade games represent top revenue sources, tapping into different age groups, so a video game arcade business is really a no-brainer. Should you opt to open a different kind of FEC though, you can always consider adding arcade games to your floor plan. You can leave it unmanned with self-service kiosks as your employees to lower your expenses.
2. Bowling alley
You can never go wrong with a couple of lanes in your FEC if you want to draw in the entire family as your target market. Bowling also attracts larger groups of customers, and revenue streams can go from play times, shoe rentals, and F&B offerings.
3. Miniature golf course
A mini-golf course is another family magnet that can cater to all age groups. If you have a lot of real estate for your FEC, either an indoor or outdoor miniature golf course can do you good. According to a professional group of business advisors, opening this kind of business will rack up around $500,000 for land lease and improvements, décor, architectural plans, insurance, basic equipment, POS/ticketing/redemption systems, and golf equipment.
4. Indoor playground or soft play
In the IAAPA survey mentioned earlier, toddler areas and facilities like inflatables, indoor playgrounds, and ball crawl rank third among top revenue sources for FECs. You can also offer party or event spaces, food and beverages, and areas where adults can have fun while their kids are in the zone.
5. Laser tag arena
For an FEC like this, because the experience is highly immersive, investment in the design, aesthetics, and gameplay is crucial to your success. Building a winning laser tag arena calls for a professional sync of lights, sound, voice, and other factors that will create a competitive and fun environment for customers. You can consult a design consultant to help you make the magic happen.
6. Trampoline park
Another fun-for-the-whole-family FEC, a trampoline park promotes fun and healthy activities for both kids and adults. Unlike arcades and other simpler FEC types, trampoline parks should take particular interest in optimal guest safety. This means that insurance is one of the most important costs for opening this kind of business in case something goes sideways.
7. Outdoor adventure facility
Ziplines, rope courses, go-kart tracks, paintball arenas, batting cages, bumper boats and cars, and rock climbing walls are some of the most popular participatory outdoor facilities you can consider for your business. Complement outdoor adventure offerings with a curated selection of indoor attractions like arcade games, food service varying from vending machines to mini restaurants, and you're good to go!
8. Birthday party or events venue
To offer party or events bookings at your venue, allot some real estate to accommodate a certain maximum capacity of guests you have in mind. This will draw different segments to your FEC like families, corporate gatherings, and school activities, giving your business a high-revenue activity during usual low-revenue periods. Tie the bundle up with game passes for indoor activities and attractions, food packages, and loyalty promotions to seal the deal.
No matter what kind of FEC you choose to push through, you can make your business concept a solid idea by drafting your market feasibility study and FEC business plan.