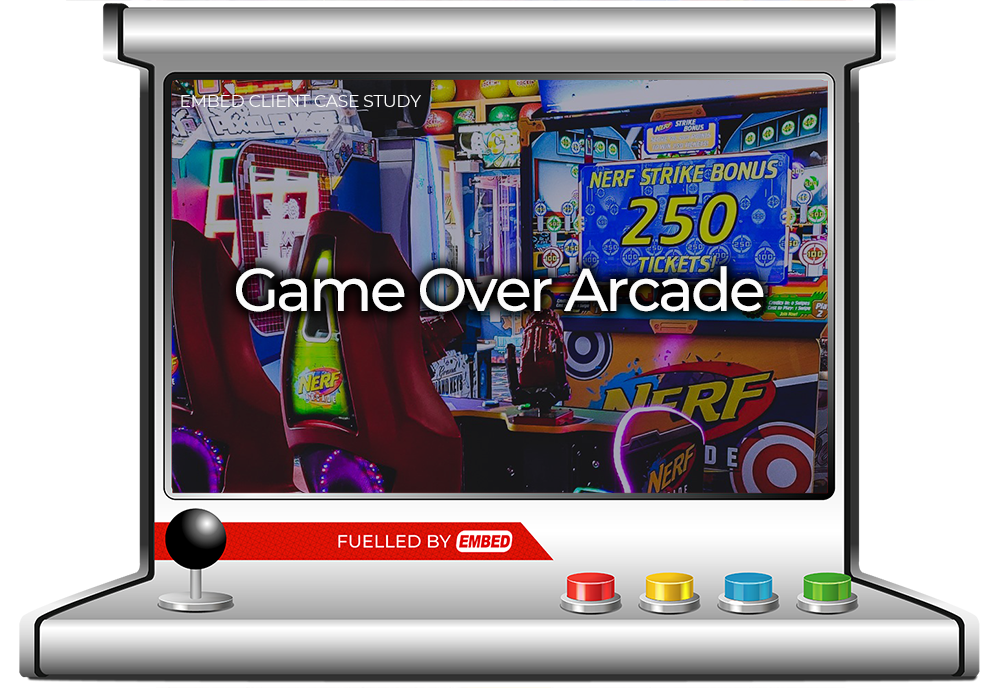 Challenge: Staying Relevant and Facing Operational Inefficiencies Like Coin Jams, Frequent Trips to the Bank, and Theft
Operating for almost a decade, the Donners try to keep up with the times by purchasing new games and attractions, like virtual reality and motion rides to go with the classic arcade games they offer. "We're trying to start implementing ticket games soon and doing whatever we can to stay current, to keep people coming back," Jennifer shares.
Game Over Arcade also faced several pain points in their daily operations. Running games on quarters, they frequently encounter coin jams and other labor-intensive tasks such as gathering coins. "We usually go to the bank twice a week or more with hundreds of dollars-worth of quarters," says Chris.
Theft was also a problem in the past. In 2019, a teen was caught hiding under machines and prying the backs of the machines open to steal quarters.
With operational efficiency and overall guest experience affected, the Donners began their search for a more reliable system to replace their traditional one.
Solution: Going Cashless with Embed's Integrated Hardware & Software Solutions
After considering card systems for several years, Game Over Arcade decided to make the switch from their quarter-operated games to Embed's cashless system in 2021. The integrated hardware and software solutions include smartTOUCH card readers, kiosks, customizable game cards, and applications under the TOOLKIT suite namely SALES and GURU.
"We had around two to four training sessions with Embed and all our questions were answered. Even things that we didn't know we could do, we learned about," shares Jennifer. "You think that you got it all figured out after how many years in the industry, but then you get into a system like Embed's and realize that you don't," adds Chris. "Getting into GURU and crunching reports (140 report options) are just incredible. You can go in and get figures of anything you want. The integrations could not be any better. It's everything you want out of a system and more," he adds.
The kiosks also prove to be game-changers in terms of reducing manpower, minimizing maintenance costs for quarter jams, and elevating the guest experience: "The kiosks are important to us because we don't need an extra employee selling cards all day. Those have made a big impact especially now that we have two kiosks and a POS system," shares Jennifer. "Before, we just had two change machines, and if those were down, customers will come running to our employees. Kiosks definitely made it a lot quicker for people to get their money to play games," she resumes.
Chris admires the overall look and modifications that can be done with the hardware: "It's customizable too, so we can add options to it. They are nice, clean-looking machines. It feels simple and fun to use for the guests."
To add, Jennifer also lauds the POS system, "It's really easy to learn and it only takes five minutes to train an employee."
Because of its secure nature, Embed's cashless card system eases the Donners' qualms about past issues like theft. Jennifer emphasizes: "Now, we're able to step away from the arcade and spend more time with our family because we're not wasting time fixing coin jams or gathering quarters. We can trust that our employees can take care of the operations. It's so much smoother and it can almost run by itself. We're not worrying so much about theft and other issues like taking many trips to the bank anymore, too."

Client: Game Over Arcade
Overview: Game Over Arcade opened its doors in 2013 in Lincoln City, Oregon, when couple and self-proclaimed arcade fanatics, Chris and Jennifer Donner, ran out of room for their collection of game assortments and decided to open an arcade. Today, the facility features the largest collections of classic arcade and pinball machines in the state of Oregon, diversifying to newer high-tech attractions like action games.
Website: https://gameover-arcade.com