SINGAPORE: FEB 04, 2022: In 2021, the family entertainment industry pivoted strategies and focused on surviving and thriving in the pandemic, eventually going down the road to recovery. This year, with COVID-19 restrictions easing up, customers are on a revenge spending spree, making up for lost time and the immense craving for entertainment, experiences, and connection – without compromising safety.
The Transition to Reinvention and Rejuvenation
Staying in survival mode will not be enough anymore. The crowds are coming back – are FEC owners and operators ready to cater to guests in the new low-touch, contactless economy? Consumers are now demanding faster, safer, and more efficient ways to transact and engage with businesses.
This change requires an upgrade to reliable systems that can give real-time visibility and results, simplify ways of working, minimize touchpoints, and free up more time for manpower without compromising the guest experience.

Game Over Arcade
Husband and wife tandem Chris and Jennifer Donner of Game Over Arcade, Lincoln City, OR, met Embed at IAAPA Orlando in 2021, finally making the transition from quarters to card readers. This enabled the couple to have more control over what's happening in their business, such as eliminating coin jams that incur maintenance costs and block revenue flows.

Thanks to Embed's smartTOUCH arcade debit game card readers, the Donners also enjoy more time off-site, stepping back and easing management of their business. Instead of going to and from the bank carrying thousands worth of coins and fearing theft every day, going cashless removed their hurdles to profitability, solved their potential security problem, and eased their operations.
Hear it from them here.

Scary Strokes
Waldorf, MD-based FEC Scary Strokes needed a one-time, all-in-one solution for their games, attractions like virtual reality and mini golf, prize redemption, and downtimes. After doing a lot of comparisons between different card systems over the years, President & CEO Doug Roth decided on switching to Embed, getting a bundle of everything they needed – from kiosks, card readers, point-of-sales, and redemption system.

By also adopting Embed's award-winning Mobile Wallet during the height of the pandemic, Scary Strokes ensured that they won't go lights off again: they had real-time visibility over operations, COVID-19 contact tracing capabilities, and a virtual game card that allows guests to play and reload from their phones, keeping them safe and in the zone.
Hear it from them here.

Atlantis Casino Resort
Billy Tiehm, Manager of Atlantis Casino Resort in Reno, Nevada, had a choice to switch to any other cashless solutions provider but decided to stick with Embed since 2008. The business has since utilised smart reporting from the software GURU, smartTOUCH debit game card readers, and PRIZES redemption system.

Seeing how their guests are now familiar with their seamless system, Tiehm plans to upgrade their VIP loyalty program to Embed's RFID wearable media.
Hear it from them here.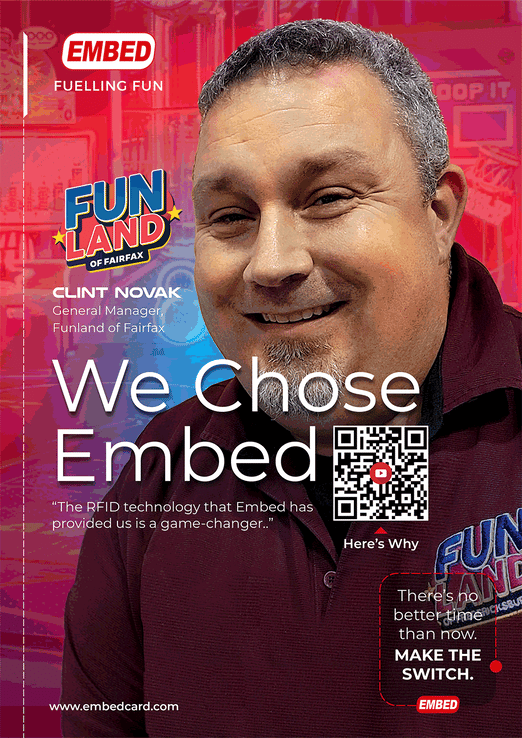 Making the Switch
Out with the old and in with the new - reinvention is the answer to the rising consumer trends. These businesses who defied "pandemic paralysis" were only able to do so by making the decision to make the switch from their previous systems to one that is an absolute no-brainer based on Embed's long-running industry leadership, breakthrough tech innovations, data, and outstanding results.

Amusement giants like Dave & Buster's, Fun Land, Ticket Time, and Zone Out Arcade are also testaments on how choosing Embed leads to growth and scalability, future-proofing their businesses.

"2020 has tested our industry in ways that no one could have imagined. Consumers demand a low-touch, contactless, and cashless society now. I am beyond proud of the powerful demonstration of our commitment to our customers' and industry's recovery. Now, we are happy to be a part of our customers' transition to reinventing their business into an FEC of the future with only the latest in breakthrough innovations," said Renee Welsh, CEO.

FECs currently on non-Embed systems can make the switch with an unbeatable deal here.

GLOBAL Media Contact
Kathleen Goy
Global Head of Events
Kathleen.goy@embedcard.com