In our innovative society, one might feel it is becoming increasingly difficult to stay up to date with rapid advances being made. There are many new terms and phrases heard that many people are clueless about. Embed is here to help demystify RFID and how it benefits your business. Read on.
What is RFID?
RFID or Radio Frequency Identification is the wireless transfer of data through radiofrequency waves. Being wireless, there is no contact required, data is transferred seamlessly.
RFID needs three components to work, an RFID tag or smart label, an RFID reader and an antenna. The tag contains information and data which the antenna transmits to the RFID reader. It is converted into usable data that is transferred and stored on a computer system.
RFID vs Traditional Tech
As RFID technology drops in price, it becomes an attractive option and delivers exceptional benefits to your family entertainment center. There is no question, wearables wristbands and game cards (use RF media) dramatically improve the customer experience; no unhygienic coins and tickets to fumble. Furthermore, no risk of game breakdowns due to ticket dust and coin jams. Plus, and this is important, business owners get visibility to actual spending habits of guests, gaining detailed data that can be used to drive future business decisions, like promotions to offer to upsell customers within certain spending brackets, and demand generation promotions to run during low revenue periods. This has the power to transform a business.
What is RFID Wearable Technology?
RFID is available within wearable items embedded with the RFID tag. RFID wearables are items such as wristbands or rings, fobs, dongles, which carry an RFID chip, allowing them to interact with RFID readers.
How Can RFID Be Used In an FEC?
RFID technology is pervasively used in arcades and family entertainment centers today to enhance the customer experience through cashless technology, lower operating costs, and drive greater revenue, serving to strengthen and future-proof FEC businesses. The new tap cards and wristbands are a prime example of this. This technology means the customer has their designated wristband or amusement or arcade play card with their data on it, including membership details, balance and reward tickets.
How Do RFID Bracelets Drive FEC Growth
Drive Return Visits
RFID wearables are lasting reminders of a specific venue and jog the customers' memory. Having the RFID wearable means they won't waste any time setting up an account, they can just top up their credit and jump right in. Another great benefit of the RFID wearables is that they store reward tickets digitally. Being recorded digitally, customers are encouraged to save up for a big prize and keep returning until they reach that goal, not wanting to waste the tickets they've already earned.
Increased Spending
The RFID technology is also great at minimizing the time customers spend waiting to play. This enhances customer experience through ease of transaction and increasing time spent enjoying what the venue has to offer. The better the customer experience is the more likely customers are to top up their RFID wearable and spend money in your venue.
Customer Loyalty
In a highly competitive market, family entertainment centers are often fighting for customer loyalty. The RFID wearables present a great opportunity to create a sense of comfort and awareness for customers. Through already using and keeping the wristbands or other types of RFID wearables, they are much more likely to return to your venue, rather than go somewhere else.
Another element of creating loyalty through RFID technology is having a loyalty program engrained with the RFID wearables. Giving customers the ability to reach goals recorded through an RFID wearable and receive rewards for doing so encourages customers to return and aim to reach goals and receive rewards.
Design
The design of RFIDs is important too. Having a wearable that people want to wear at places other than your venue is great. This will increase brand exposure and may also grab the attention of people around them, exposing new people to the brand. Even an eye-catching wristband can lead to questions about it. This creates word-of-mouth advocacy in the community for your family entertainment center, increasing exposure and awareness for your brand. Furthermore, even edgy and dynamic amusement or arcade play cards can earn "share of wallet" in the consumers' wallet.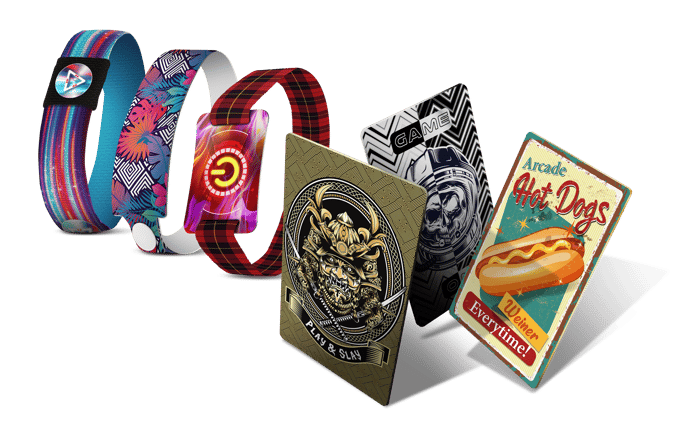 Embed's Wearable Media
Embed's Playwave Contactless and smartTOUCH hardware reader solutions utilize RFID technology to improve the customer experience and deliver detailed business analytic reports. Additionally, the Wearable Media offers great, unique wristbands along with edgy arcade play cards with trendy, colorful designs available in a range of materials. Embed has reimagined the traditional "game card". The collection is truly collectable, sure of earning share of wallet in your consumers' wallet, certain to drive return visits.
Frequently Asked Questions
Q: Why does RFID matter?
A: RFID was the future, but now it is the present. Customer expectations are evergrowing and failing to meet those can drastically decrease the enjoyment they receive from attending your venue.
Not only this, but RFID increases the speed of service and keeps customers playing for longer, yet with less time spent waiting around. This is great for maximizing the revenue potential for your business. Additionally, RFID and game card readers render coins, tokens and tickets all useless, meaning FECs can avoid any potential issues arising from their use.
Q: What kind of impact will this have on the future of operations, software, and marketing?
A: RFID or RF media is apart of the contactless transaction movement and in regards to operations, this cuts out any issues stemming from coins, tokens, and tickets. Any coin or ticket jams, which can prove to be very costly for FECs, can all be avoided. Furthermore, the ability to quickly top-up amusement cards or arcade play cards or wearables is a great way to release the strain on employees within peak times, whilst not having to expend any hire extra employees or lose out on potential revenue.
In regards to software, RFID is moving in unison with software. Software is developing to the point where it can autonomously generate reports based on the large amounts of data that RF media generates. These reports are only getting more detailed and informative for FECs based on the increasing amounts of information that is being captured.
RFID is especially useful for informing marketing decisions. The extra data created and linked back to individual customers not only on their initial visit but every time they return is awesome for FECs to have access to. This allows you to understand the spending patterns of customers and separate them into different types, in which you can alter your strategies accordingly. RFID data will also allow you to look at your revenue and identify peak times in the day, week, month and year.