As someone who wants to start a family entertainment center, focusing on the guest experience is your main objective. To achieve this, you must ensure that everything is seamless for your customers – from the moment they step into your venue up until it's time for them to leave. An integral part of this is an immersive experience outside your arcade game room and attractions – the interiors.
There are a lot of themes and aesthetics to play around with depending on your chosen concept and the type of audience you want to attract. Failure to have a vision of how you want your FEC to look like is setting up to fail. The interior should not only be consistent with your concept but should also be a big part of creating an ambiance and atmosphere to match.
We've rounded up some of the aesthetically pleasing FECs for inspiration as you go on your journey to starting a family entertainment center:
1. Dave & Buster's
Image source: daveandbusters.com
One of the largest multi-location FEC chains in the US, Dave & Buster's is known to cater to a wide range of audiences, both the young and young-at-heart. Their attractions like the pool hall are designed for maximum in-game immersion. The bowling lanes are highlighted by a multimedia show on a large video wall, blacklight mode, and a full-menu service. They even call these spaces "designated trash-talking zones" – a truly creative wordplay on the already playful environment they successfully created.
When creating unique spaces like these, it is also important to think of the guest journey that will take place. What do they do after the game to cool down? What do they do when they wait for their turn? How do you keep them in the zone? The interiors and design elements should also help shape this journey into revenue for you.
Check out Dave & Buster's case study for more business insights from this industry giant.
2. Atlantis Casino Resort Spa
Image source: atlantiscasino.com
This Las Vegas-based FEC housed in its 4-star hospitality hub is a true reflection of the entertainment city's non-stop fun aura. Aside from world-class interiors, Atlantis Family Entertainment Fun Center was voted the Best Arcade in the Reno News & Review.
Instead of focusing on a single arcade game room, Atlantis also dedicated some of its floor plan for an e-sports lounge and an event space. You can also start off with a couple of arcade games and leave room for expansion later on.
Check out how a big player like Atlantis gets real-time visibility over their large operations here.
3. Xtreme Action Park Roller Skating Rink
Image source: usdesignlab.com
If the location you are eyeing is not that spacious, take notes from this 120,000 square-foot family entertainment center in Florida that was designed to be a multi-purpose skating rink. Among its many transformations are as an event venue, concert stage, and party place. Professionals at the US Design Lab intended to maximise every square foot of real estate for cost-effectiveness.
4. Gamestate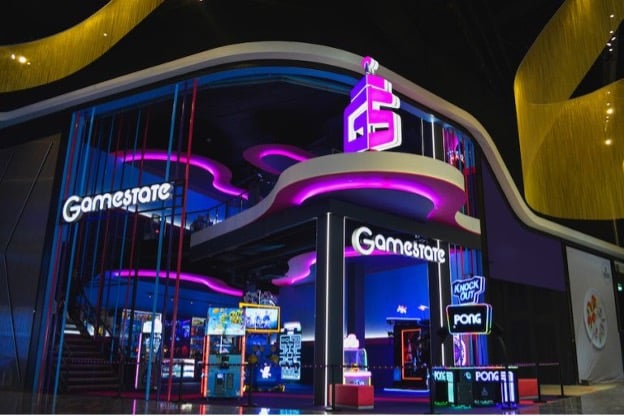 Image source: Veltmeijer Group
Gamestate, an FEC chain under Europe's prominent Veltmeijer group, wows guests with its futuristic interiors which consist of neon lights, curves, and the latest games like VR Rabbid. Their overall design transcends the in-venue experience, too – you get that same feel on their website!
To achieve this kind of design consistency in all your business touchpoints, you will need professional designers to ensure that your brand carries the same visual aesthetics and experience even off-venue.
Here's a case study on how Gamestate stays a step ahead in the future with the latest tech.
5. Planet Royale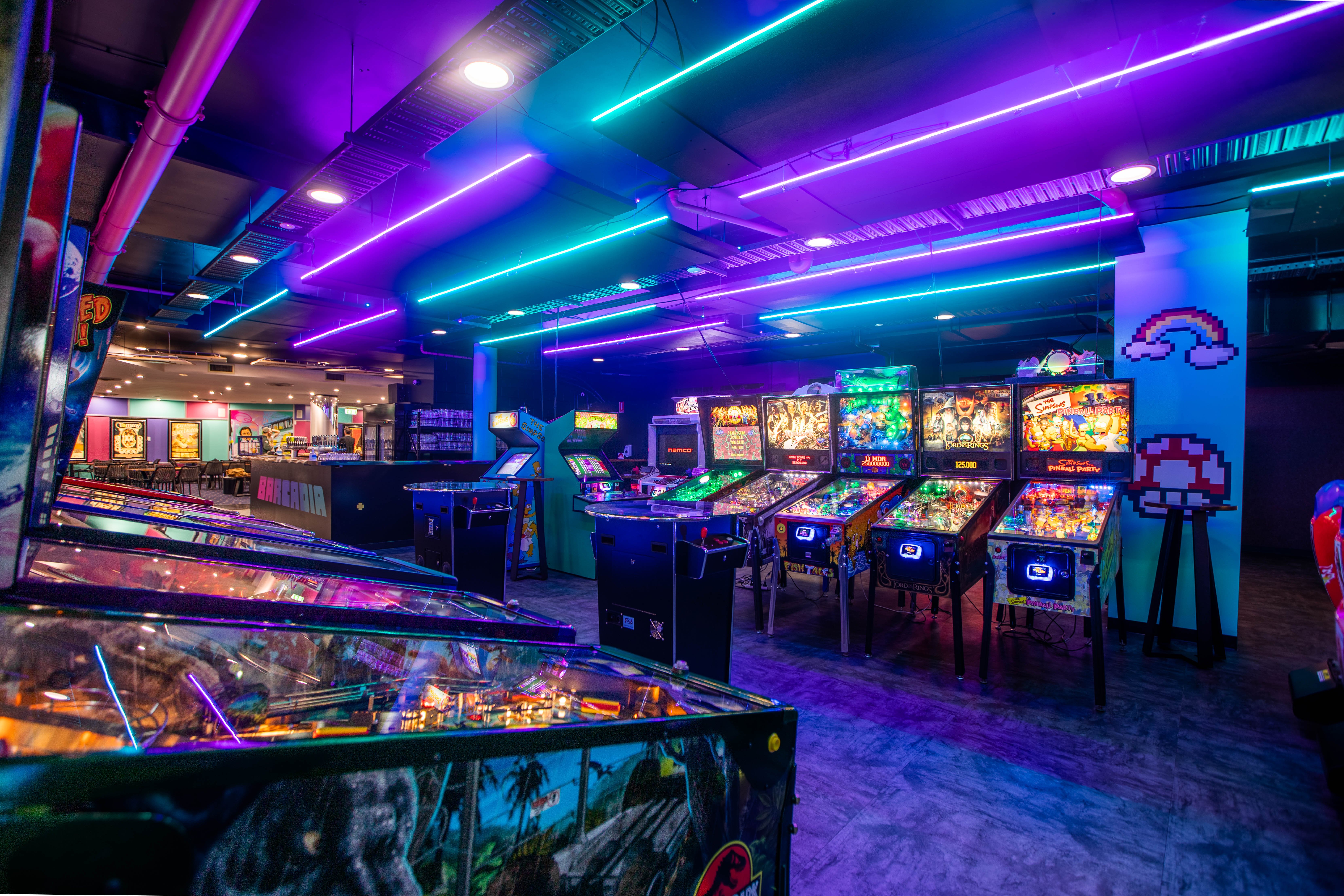 Image source: Planet Royale
The new Perth-based FEC is a visual masterpiece – its 2-level pop culture-themed venue houses the old-school arcade bar Barcadia, a Tarantino-inspired diner, and a theatre. Planet Royale's design elements are an out-of-this-world combination of retro and futuristic. You can also play around with contrasting themes and make it your own blend for your family entertainment business idea.
Once you are all set with the design and concept you want for your FEC, time to include it to the first draft of your market feasibility study and FEC business plan. We need more fresh concepts in the industry – we're rooting for you!