DUBAI, UAE, 20 MARCH 2023: Embed, the ultimate cashless solutions provider for the amusement, entertainment, and leisure industries, has successfully launched STATS, the new data visualisation dashboard, at the Dubai Entertainment, Amusement and Leisure (DEAL) Show from March 14 to 16.
Changing the Game in the Middle East
After its successful uptake in the NASA region at IAAPA Orlando 2022, STATS – a development powered by Amazon Web Services (AWS), rocked DEAL Show with its powerful data and report visualisation designed to help family entertainment centres worldwide transform guest experiences, improve operational efficiency, and boost revenue using data.

"It was thrilling to see how huge the potential is for STATS here in the region, judging by the warm reception from show goers," says Saeed Abdillahi, EMEA Sales Manager at Embed. "There was much eagerness to learn about the product, and with the help of the brilliant representative from AWS, we were able to showcase how cloud-based solutions like STATS can help move an FEC forward to digitalisation and automation, eliminating manual and counterproductive data work operators struggle with," continues Renee Welsh, CEO at Embed.

With STATS' in-depth, dynamic visualized data reporting, operators of all business sizes can best manage their business, improve staffing levels and scheduling, reduce manpower waste, and forecast revenue based on retro data. Built with AWS's global cloud infrastructure, this cloud-based solution offers accessibility, security, and low latency.

Aside from launching another industry-first, here are the highlights of the show:

New Breakthrough Innovations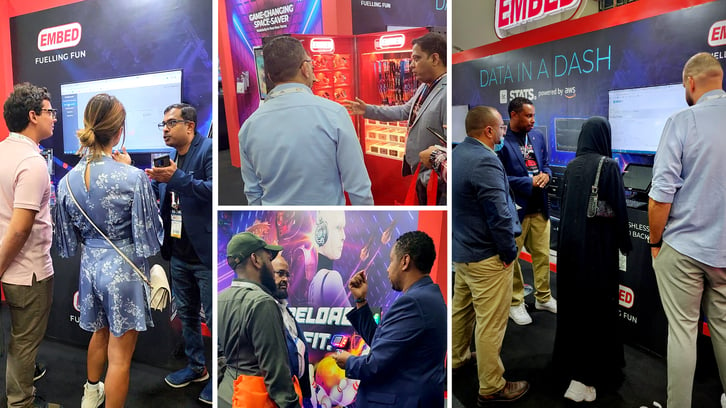 Joining STATS in the Tech of Transformation roster are: eShop, the online shopping portal where Embed customers can conveniently purchase hardware, parts, and accessories anytime, anywhere in just a few clicks; and Staff Merchandise, a series of customizable wristbands, key fobs, and lanyards to match an FEC's theme - giving the manpower a makeover with a consistent look that stands out. The Embed Mavericks also performed free product demos of the latest breakthrough innovations like the Mobile Wallet, KIOSK+, TOOLKIT software suite, and smartTOUCH card readers.

Spotlight on STATS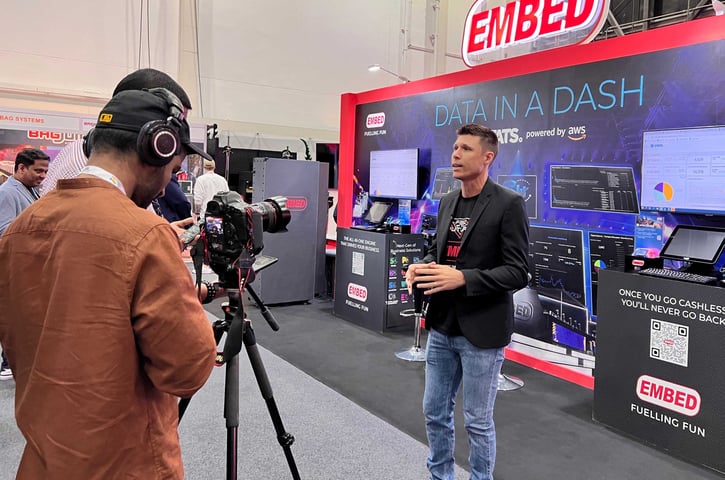 In an in-booth interview by Gulf News, Dan Hudson, Global Head of Sales, had a chance to have an in-depth discussion about STATS, the importance of the Middle East market, and the future of tech and entertainment in the region.

Catch the Embed team and the Tech of Transformation at the Amusement Expo International (March 29-30, 2023) and Saudi Entertainment and Amusement (SEA) Expo (May 28 to 30). For the full trade show schedule, click here.