DALLAS, 17 November 2023: – Embed, the ultimate cloud-based, cashless solutions provider for the amusement, entertainment, and leisure industries launched industry-firsts like Embed Success Squad™ and Embed GoTrain™ as the ultimate testament of their customer-centricity, championing customer success of the Embed Family of FECs.
"We're so excited to see the Embed Success Squad™ meet our customers, build a relationship, and plan the course towards transformative growth!" says Renee Welsh, CEO at Embed. "Customer-centricity is at the very centre of everything we do as a company; it informs every strategic and operating decision. With the addition of the Embed Success Squad™ and its dynamic training arm Embed GoTrain™, we are future-proofing our customers' businesses via transformational growth results with the Embed solution. We've changed the narrative and elevated the conversation to focus on the ecosystem of driving value growth and not volume; it's 80% less expensive to retain an existing customer than acquire a new one, so we enable our customers to know who their customers are and drive return visits with higher reloads, and 60% of customers reloading before they even arrive at the FEC - shortening the revisit cycle!"
"This dedicated team of consultants, champions, and trainers – a mix of growth gurus, SaaS experts, and payment specialists – brought their A-game at the show and started sharing their expertise with our customers – the members of the Embed Family. The best part is it's all complimentary offerings, like 1-year FREE Mobile Wallet and 3-months FREE STATS subscriptions, with complimentary payment gateway cost-saving analysis, free best practice training from the industry's best FECs, free marketing kits or printed assets that cover the entire customer journey in an FEC, and the Embed GoTrain™ which is in-venue training to drive consumer uptake of Mobile Wallet. This has shown wild reload value increases from $30 to $50 for our customer Tilt Studio, and some FECs are reporting up to a 200% reload value increase!" shares Sara Paz, CMO and Embed Success Squad™ Transformation Guru. "This is all an example of how Embed layers value for the Embed Family. And the feedback we've gotten is universally enthusiastic; there's no other company in the industry that has hired an entire team with the single mission of helping their customers maximise their product and system and doing it for free. The very epitome of customer-centricity!"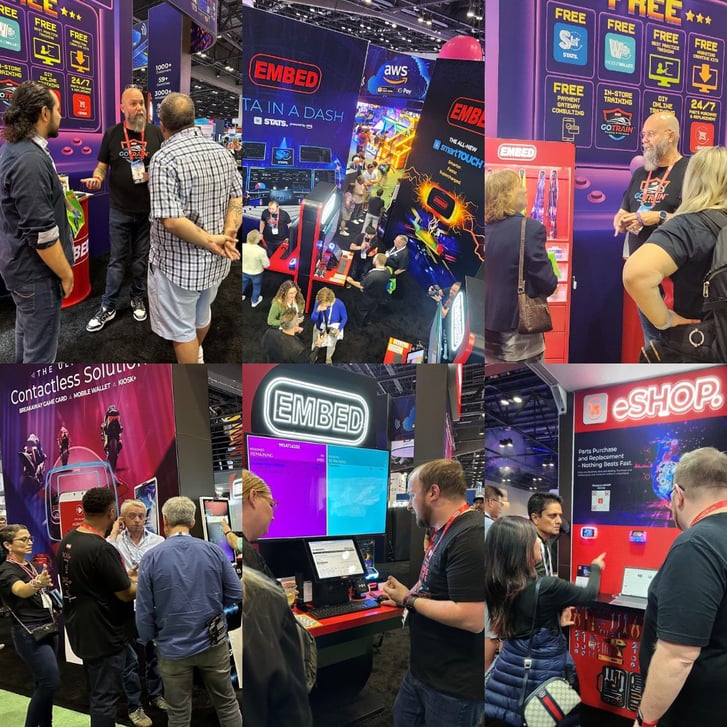 All the action happened at Embed's refreshing new booth – another step towards transitioning from traditional to digital to set the standard for sustainable practices among exhibitors. The modular stations in a fresh layout housed the demos of Embed's breakthrough innovations, drinks over daily Happy Hour, and the game cards and wearables showcase at the show-stopping Bling Trunk. Here are other highlights from the show:
Press Conference
The Embed Mavericks held a press conference at the new booth to acknowledge Embed's first Top 100 FECs – a list cataloguing businesses across the globe that vary widely in size, number of locations, and type of FEC, but share one thing in common: they are the most admired and respected in the industry.
"In this Membership Economy where our customers are more than just partners and friends, it is our privilege to recognise the FECs that built the industry to what it is today," says Welsh. "We hope to continue skyrocketing these fellow trailblazers' businesses in the years to come."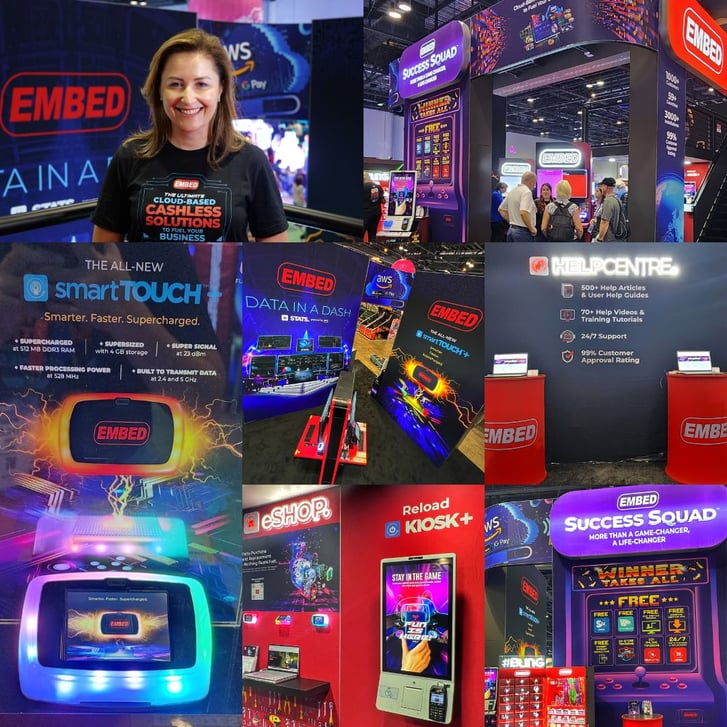 Following the recognition, Welsh officially kicked off the launch of Embed's new breakthrough innovations, namely: the smarter, faster, and supercharged smartTOUCH+™ that's everything customers love about the current smartTOUCH but more; the Embed eSHOP, which accelerates parts purchase and replacement with a doubled product and parts range and new functionalities so customers can simply select, ship, and pay; and the enhanced Embed Help Centre, boasting of fresh features like MY TICKETS on the main menu for easy access to ticket status, and expanded content with embedded videos – all designed and developed to solidify Embed's position as the FEC solutions trailblazer. With a customer service approval rating of 99%, Embed's complete customer support ecosystem enables, empowers, and eases the business of fun.
After-Party at Andretti's

The Embed Mavericks ended IAAPA Expo 2023 Day 1 with a blast at its after-party at Andretti's, gathering 250 customers, partners, and industry friends from all over the region to network over drinks and canapes, celebrating the ever-growing Embed Family.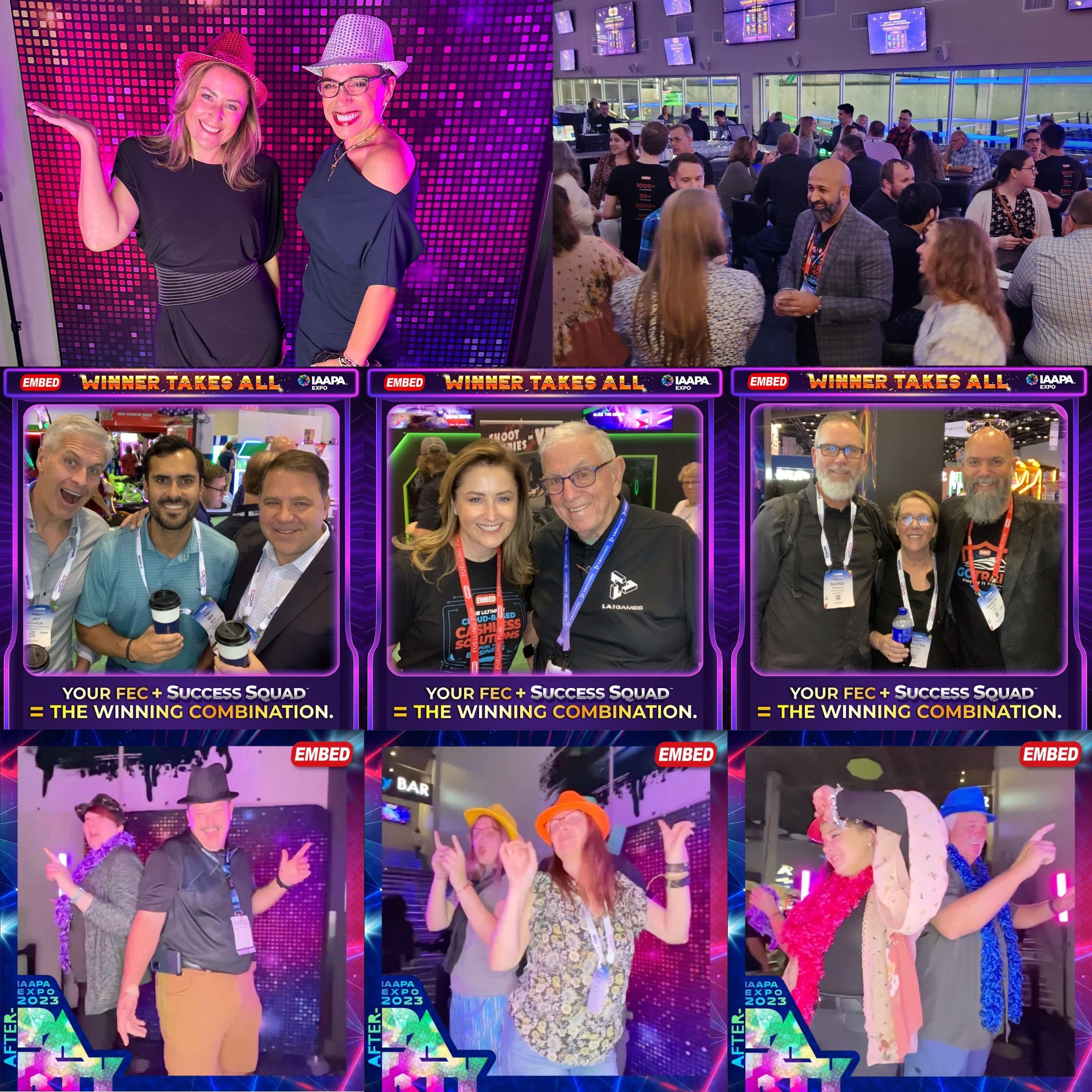 What's Next?
Catch the Embed team and the roster of integrated hardware and software solutions such as the Mobile Wallet, STATS, smartTOUCH+™, KIOSK+, and TOOLKIT suite, and a showcase of game cards and wearable media at the EAG International Expo (16 to 18 January 2024), DEAL Show (5 to 7 March 2024), and Amusement Expo International (20 to 21 March 2024). To register for these events or to view Embed's full trade show schedule, click here.