As we said in our Be A Game Changer During the Covid-19 Crisis and The Time to Plan Your Reopening is Now blogs, it is imperative you work on your reopening readiness plan with a clear understanding that it's not "just open the doors and back to business-as-usual." This pandemic has changed the playing field. Research tells us consumers will not return to businesses they perceive as unsafe (elevate your cleaning protocols, including contactless payments) and/or brands that have disconnected during the lockdown.
Consumers are suffering serious cabin fever, when restrictions are lifted there will be a huge consumer surge (see image below of China consumers at a tourist attraction after restrictions lifted). Your consumers will be coming out in a massive roar, and you want to focus on plans that will draw customers to your business. Will your staff be ready? Will your venue be ready?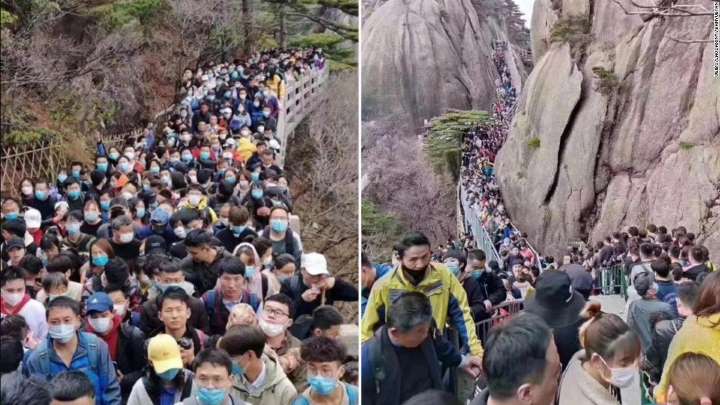 While we are awaiting governments to lift restriction for businesses to re-open, it's the time to start planning your customer win back strategy after COVID-19. Having this operating and promotion plan ready allows you to execute quickly and in real-time.
Host a Grand-Reopening Event – Invite your entire social media community and charge a flat rate to attend (sell the tickets online, pre-paid; lower price online and higher price at the door) for a 4-hour party. Host an all-you-eat BBQ, free-flow drinks, free or high discounted game-play, have a PR Wall where attendees can stand and take a picture and post on social media with a hashtag for the event (encourage customers to upload their pix and tag your business; pick a winner every hour), post your own pix while your event is happening and encourage attendees to do the same (it will attract more people in real time who will think, "there's a great party happening now, a flat rate entrance fee is good value, and the venue has dramatically elevated hygiene standards, so it's "good, clean, fun.").

Your reopening event will communicate the following: it is not business as usual, your business has re-opened and it is better than ever, with a greater menu, greater packages for family, better bundle deals on games, and more fun for the entire family and friends than any other FEC.
Elevate Your Hygiene Environment – All businesses are communicating the measures and steps they are taking to mitigate risk and protect their employees, customers, and the industry from the coronavirus. You must do the same. It requires you have a clear operating plan. If you haven't already, it's the time to switch to contactless payment processes, which assures your customers of a safe (virus-free) environment.



Contactless payment technology such Embed's Kiosk and smartTOUCH readers ensure eliminated risk of unhygienic coins and paper tickets, and/or cash payments (which can carry viruses for 3-days); plus you need to give consumers' the ability to game using a virtual game card on their mobile (enter Embed's Mobile Wallet), which means zero contact (no app download), dramatically reduced risk of any ole virus transmission.

Demand Generation Campaigns – ongoing social media campaigns (cost nothing) can help you build consumer buzz and re-engage customers around your FEC's reopening. Engage customers in simple and straight-forward competitions with winners (the prize should be something that drives traffic to your venue). Offer special prices on seasonal passes, BDay party events, game league parties, gift cards (pay $10 and get $20), etc., it encourages repeat visits and drives loyalty to your FEC. You can run promotions tied to future national holidays and occasions, like graduation gift cards, birthday parties, Memorial Day, and Labor Day.

Your guests have amazing memories of their experiences at your FEC and can't wait to return! Your win-back strategy ensures your business is on the list of top places they visit when they come out and play, and your grand opening event ensures the crowds come to you first and experiences the "new and improved" you.
The opportunity is now. Don't wait. If you haven't already, start planning it.