Introduction
Research shows that customers emerging from the pandemic are only going to places they perceive as clean and safe, forcing business owners to implement stricter cleaning protocols to offer enhanced hygiene protection. But the accelerated cleaning pace equals higher chemical exposure with higher health stakes and the risk of businesses going up in flames (literally).
Now, you will have to disinfect high-touch areas, like doorknobs and bathrooms, several times per day, sometimes every hour. Some areas, such as arcade games and payment stations, may require cleaning between each patron. That's a significant increase in cleaning and exposure to chemicals. It's vital to the health of everyone who enters your facility to ensure you're using the safest solution available to you.
Do you know what's in your cleaning products? And why it matters? It is critical to the safety of your business, employees, guests, and your community.
Table of Contents
Delivering Safe, Clean, Fun with Toxic Cleaners?
Chemical-laden cleaning products can cause countless short-term or immediate health problems, including (but not limited to): headaches, dizziness, skin, respiratory and eye irritation, and asthma attacks. Some cleaners also contain known or suspected carcinogens, neurotoxins, reproductive system toxins, and hormone disruptors.
These chemicals have staying power – polluting your air, surfaces, and the surrounding areas. They remain on counters in F&B, in the carpet or floors where your guests play, and on the high-touch areas, like doorknobs and arcade games (where they are ultimately transferred to your phone, your face, or anything you touch.) They even find their way into the environment when flushed down drains and toilets and impact water quality through excess buildup.
It's more important than ever to take a good hard look at the labels of the products you use, even those claiming to be eco-friendly or non-toxic. These chemicals don't belong anywhere in a product that is supposed to be "green" due to questions regarding their safety and potentially devastating effects on you.
Toxic Chemicals to Avoid
Who is to Blame for the Toxicity in Everyday Products?
Toxic chemicals in consumer products pose unnecessary and avoidable health hazards to consumers, communities, and our environment. According to the EPA, less than 1% of chemicals used in consumer products have received thorough testing for human safety.
So, why do companies continue to put these toxins into our products even though they are hazardous?
The answer is simple: consumers demand a long-lasting shelf life so they can buy it in bulk at Costco and not worry about expiration date, and they want their products to look and smell a certain way (no one wants their surface cleaner to look like Italian dressing with ingredients separated), and they want the scent to remind them of sipping Piña Colada's on their last vacation, without understanding that the chemical ingredients required to deliver that product are life threatening to them and what they most love, their family, so consumers continue to buy them.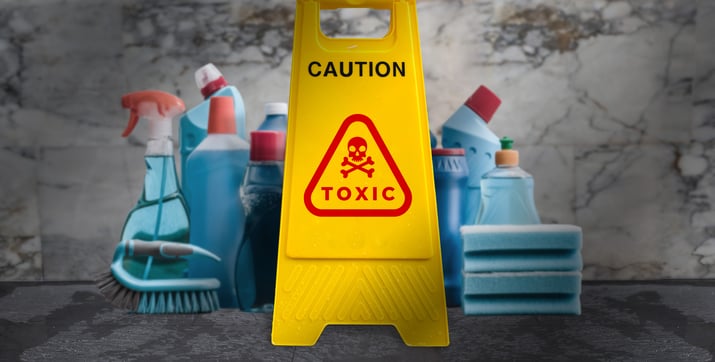 Cleaning Around the Clock
As a business owner, you have a responsibility to protect everyone who enters your facility. Pre-pandemic, you were cleaning your FEC before opening, throughout the day, and at the end of the day. However, given the COVID-19 pandemic, the hygiene of your FEC is more critical than ever. It's more important than ever to understand how to enhance your cleaning regime to offer safe, clean, fun for your guests.
Cleaning and disinfecting are arguably the most critical part of your maintenance routine and the best way to reduce germs throughout your facility. But did you know that cleaning and disinfecting are not created equally? You can clean without disinfecting, but you can't disinfect without cleaning.
Having an air-tight cleaning routine is especially important in your kitchen. Choosing a green eco-friendly cleaning solution will help you tackle the toughest kitchen messes without toxic cleaners and keep your surfaces safe. To leave a lasting impression on your guests - and keep them coming back – it's key to prepare your F&B in a clean, coronavirus-free kitchen.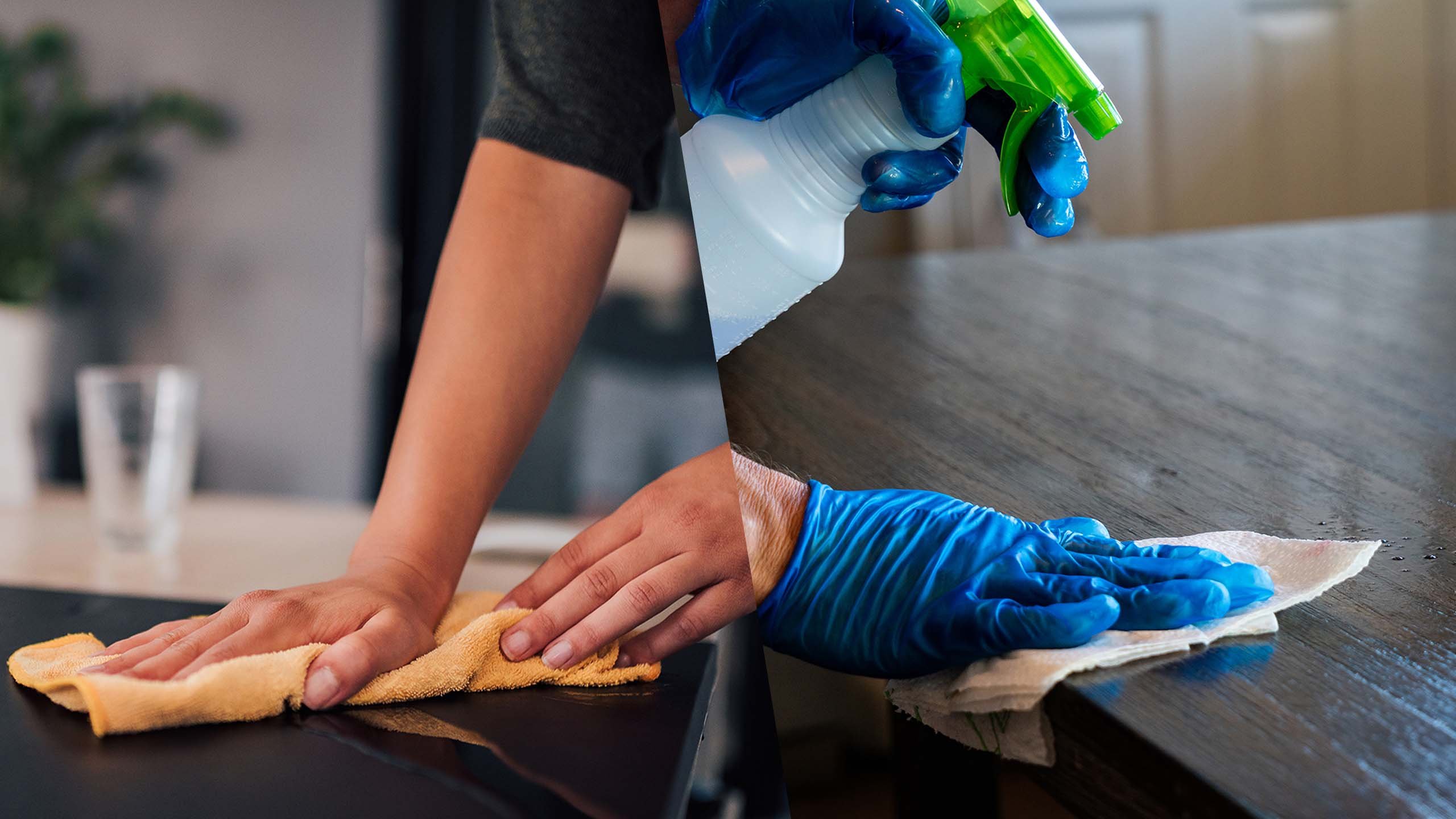 While you're busy cleaning and disinfecting high-touch areas, like doorknobs, arcade joysticks, and payment devices, you can't forget about less obvious items, like your game gear.
Did you know that mold can be present on the fabric insert inside the helmet? This poses an airborne risk of respiratory or other infections in individuals with compromised immune systems, damaged lungs, or an allergy to mold? True story. This is what happened with this Fallout Power Armor Helmet.
How Clean is Your Air?
Have you considered your air conditioner's role in spreading COVID-19? It has to do with the way an air-conditioner works. You can help mitigate exposure to harmful contaminants that pose health risks to your employees and guests by cleaning the airborne pollutants and mold in your premises, reducing the potential spread of coronavirus.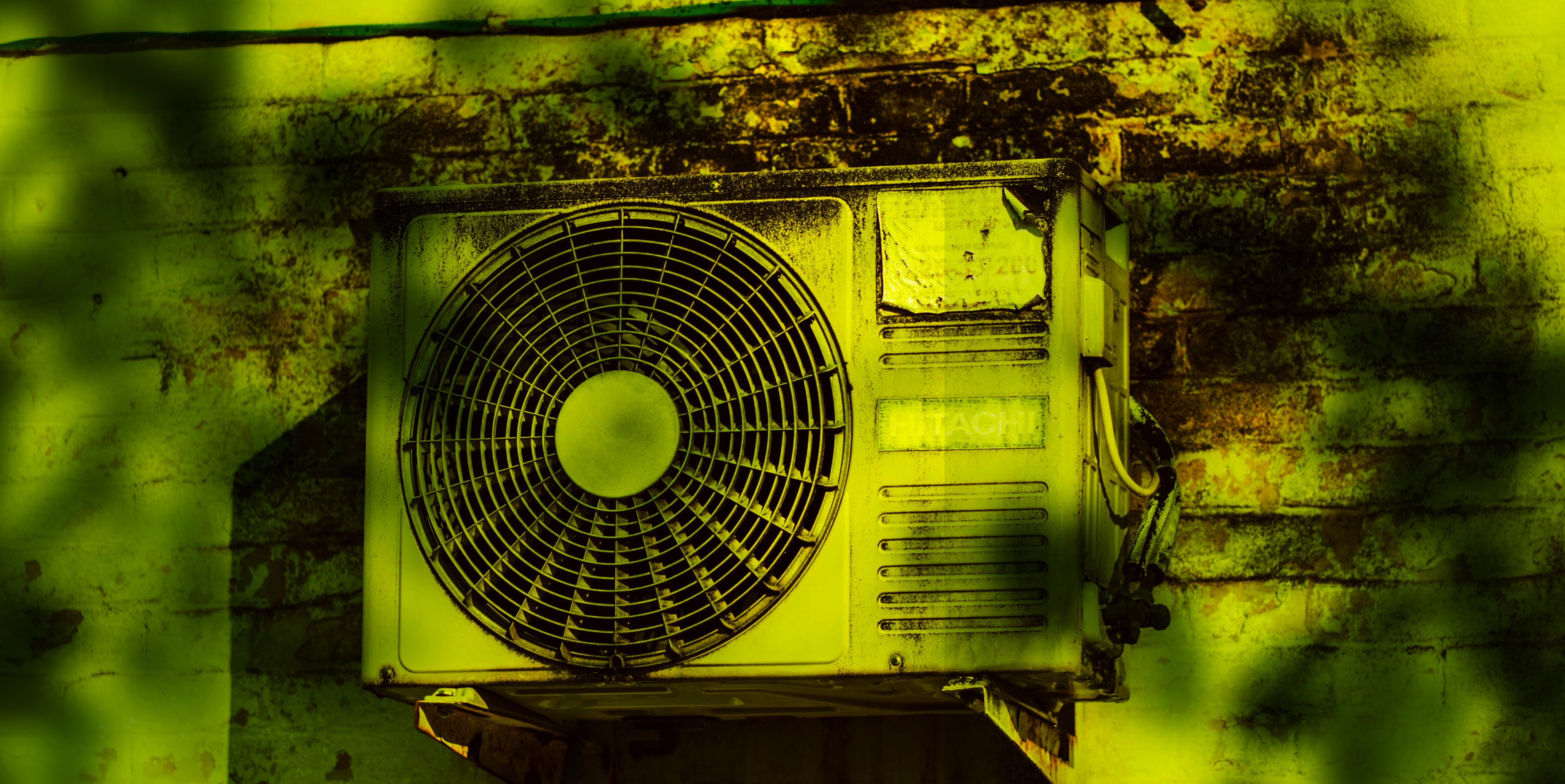 But what if you have an air purifier?
Can an air purifier can prevent COVID-19 by capturing virus particles that could be traveling in the air? In theory, if an air purifier removes viruses from the air, it reduces concentrations in the room and reduces the potential for exposure. But air purifiers are not without their limitations, as they do not kill pathogens and bacteria and often only cover a small square footage.
Air purifiers do not kill pathogens and bacteria, and air disinfectants do not purify the air. You need a solution that does both.
Why You Should Be Using Natural Cleaners
Cleaning products are among the most common things found in any household or business — and can often be one of the most dangerous. Traditional cleaners are formulated with poisonous chemicals. The presence of these potent chemicals in your business can pose a danger to your employees and guests if exposed to air (via inhalation), accidentally ingested, or via contact with skin. And they're bad for the environment. It isn't hard to free yourself from toxic cleaners.
While the price tag may appear to be a higher upfront cost than traditional cleaners, many serious reasons compel making the switch to green cleaners more cost-effective in the long run (including quality of life, can anyone put a price tag on that?). These products are safer to use and made with sustainable materials, but they can also prevent costs accrued from medical bills, higher medical premiums, replacing equipment, and paying injured workers.
Plus, these natural products are developed using green chemistry, which creates better, safer chemicals while choosing the safest, most efficient ways to manufacture them while reducing waste. Green chemistry is beneficial to human health and the environment while still supporting the economy and business growth.

Using green or eco-friendly cleaning products that are safe for even the most vulnerable of guests – the elderly and children – is just one small step you can take to protect everyone who enters your facility.
With heightened cleaning protocols in place, you're likely disinfecting high-touch areas numerous times per day – even between each player. A recent Embed survey showed that 65% of FECs worldwide are cleaning their FECs every hour. That's a lot of toxic chemical exposure for your employees and guests (with a long list of health risks.)
Why use toxic cleaners when you have natural products that are equally as effective?
Experience the Embed Hygiene Defence Difference
The Embed Hygiene Defence product range is clean with a conscious, providing the best-uncompromised protection to the industry's employees and guests. Our range of cleaning products is free from parabens, phthalates, triclosan, 1,4 dioxane, formaldehyde, chlorine bleach, SLS or SLES, phosphates, synthetic dyes, synthetic fragrances, harsh solvents, and VOCs.
Embed Hygiene Defence is non-toxic and environmentally friendly, and more effective than industrial cleaners. Formulated with a unique and proprietary mix of 100% natural active ingredients consisting of organic certified biodegradable steam-distilled essential oils, our range of products is a game-changer.
You don't have to use toxic chemicals to get results. We're the proof.