Green Chemistry (also known as sustainable chemistry) is defined as the design of chemical products and processes that reduce or eliminate the use or generation of hazardous and toxic substances. The goal of green chemistry is to create better, safer chemicals while choosing the safest, most efficient ways to manufacture them while reducing waste.

According to the EPA, Green Chemistry:
Prevents pollution at the molecular level
Is a philosophy that applies to all areas of chemistry, not a single discipline of chemistry
Applies innovative scientific solutions to real-world environmental problems
Results in source reduction because it prevents the generation of pollution
Reduces the negative impacts of chemical products and processes on human health and the environment
Lessens and sometimes eliminates hazard from existing products and processes
Designs chemical products and processes to reduce their intrinsic hazards
Green Chemistry has 12 fundamental principles, which address a range of ways to reduce the environmental and health impacts of chemical production and indicate research priorities for the development of green chemistry technologies.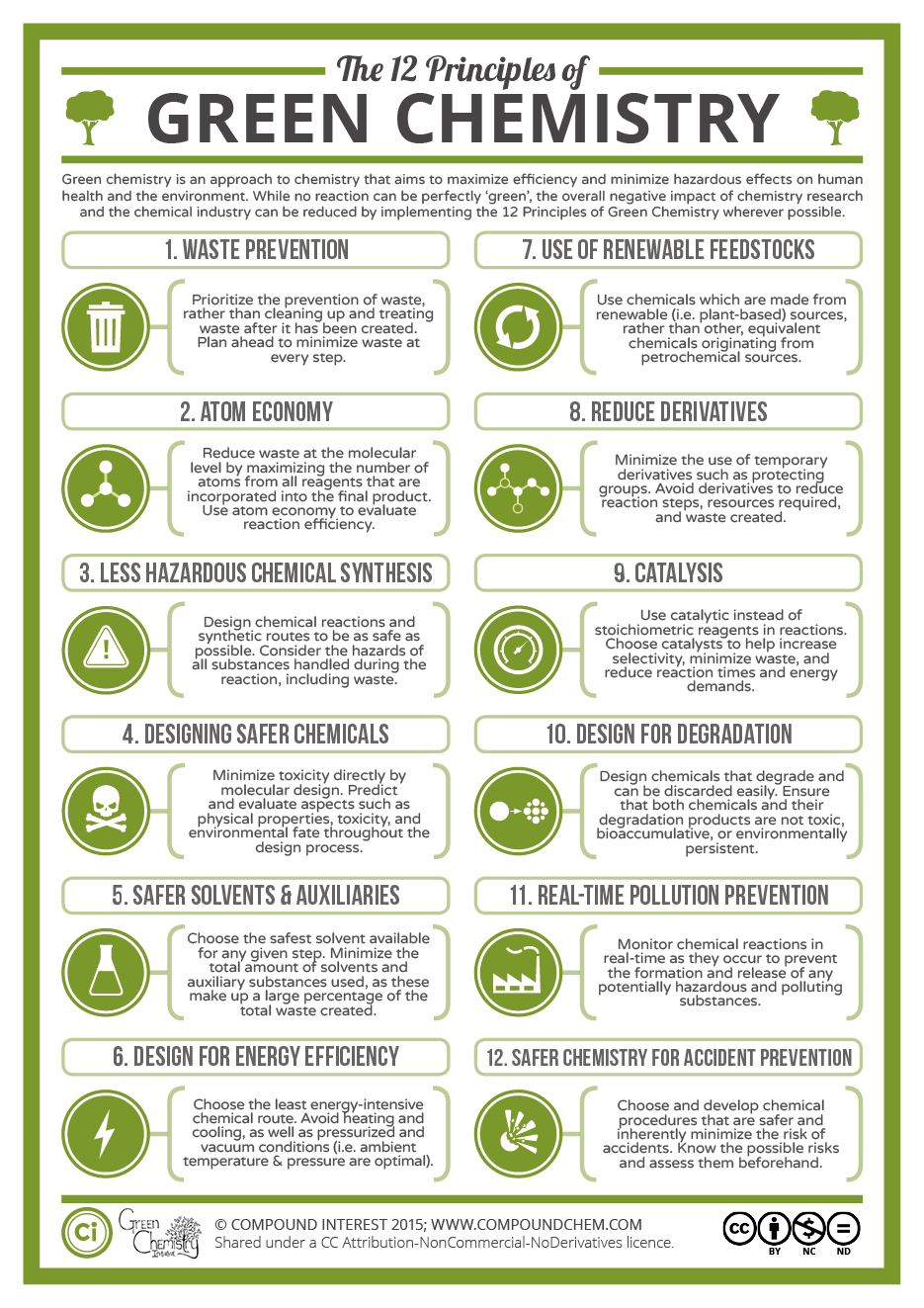 Green chemistry is beneficial to human health and the environment while still supporting economy and business growth.
Human Health: Lessening the amount of toxic chemicals in our air and water systems leads to less ingestion of these chemicals, resulting in cleaner drinking water and less damage to our bodies. The use of green chemistry allows for safer consumer products and safer foods on the markets, decreasing our exposure to toxins such as endocrine disruptors, irritants, or cancer-causing chemicals.
Environment: Green chemicals are biodegradable or are recovered and reused, resulting in less use of landfills, especially hazardous waste landfills. Plants and animals suffer less harm from toxic chemicals in the environment, and there is a decreased potential for global warming, ozone depletion, and smog formation.
Economy and Business: Green chemistry reduces waste, eliminates costly remediation, hazardous waste disposal, and end-of-the-pipe treatments. Since the chemicals are better and safer for use, less product is needed to achieve the same function. It also allows for the reduced use of petroleum products, slowing their depletion and avoiding their hazards and price fluctuations.
All of this sounds great – but what does it mean for you?
Utilizing green cleaning products is an easy way to control the amount of toxins you release onto yourself, your family, your community and your surrounding environment. The chemicals in standard cleaning products can damage your lungs as much as smoking cigarettes. Just because it smells fresh and clean doesn't mean it is.
The Embed Hygiene Defence product line-up is a guaranteed way to eliminate harsh chemicals from your FEC's air and surfaces. Non-toxic. Safe for families and society's most vulnerable: children and the elderly. Plus, it's longer-lasting and more effective than harsh industrial cleaners—non-corrosive, non-abrasive, and non-irritant. The products speak for themselves.
Experience the Embed Hygiene Defence difference today.